GSEB 10th Time Table 2024, Gujarat Board SSC Exam Schedule 2024, Guajarat STD 10 Exam Time Table : The Gujarat Secondary Education Board (GSEB) has today announced the Gujarat SSC Board Exam Dates 2024 for Class 10 students. You can download GSEB Time Table 2024 pdf online from gsebeservice.com or gseb.org or you can also check date, time and time here on this page. As per the published time table, GSEB Class 10th Board Exams will start from March 11, 2024.
GSEB 10th Time Table 2024
To know the board exam dates of GSEB SSC Exam 2024, students can check the table given below: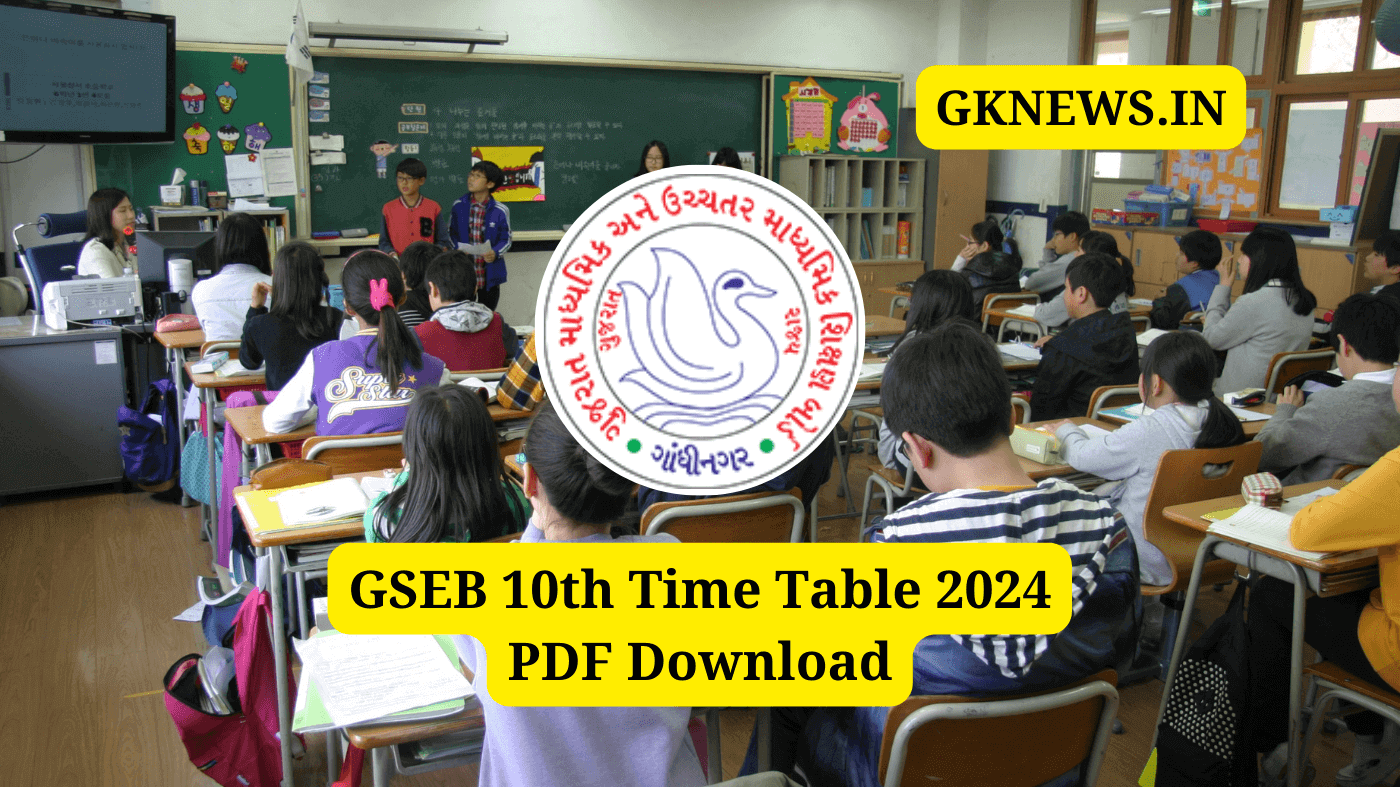 | | |
| --- | --- |
| Date | Subject |
| March 11, 2024 | First Language: Gujarati/ Hindi/ Marathi/ English/ Urdu/ Sindhi/ Tamil/ Telugu/ Odia |
| March 13, 2024 | Standard Mathematics / Basic Mathematics |
| March 15, 2024 | Social Science |
| March 18, 2024 | Science |
| March 20, 2024 | English (Second Language) |
| March 21, 2024 | Gujarati (Second Language) |
| March 22, 2024 | Second Language: (Hindi/ Sindhi/. Sanskrit/ Farsi/ Arabic/ Urdu), Healthcare, Beauty and Wellness, Travel Tourism, Retail |
GSEB 10th Time Table 2024 : Important Notice for GSEB Class 10 Student
Along with Gujarat Board exam dates, officials have also issued important guidelines for students. Check GSEB SSC Exam Day Notification Below:
Those appearing for the examination must seek guidance from their school regarding the code number of the language in which they are to write the answers and the date, time and timing of the examination of those subjects.
They have to write the subject code number mentioned in the question paper before the subject name on the main answer sheet, but there is no cross mark on the main page of the answer sheet.
On the first day of GSEB board exam, students have to reach the exam center 30 minutes before the paper starts.
On other days, they have to reach at least 20 minutes before the exam
Any literature, books, manuals or charts related to the question paper as well as electronic devices like mobile phones, digital watches etc. are not allowed in the examination hall.
Gujarat Board SSC Practical Exam 2024
As per the notification, the GSEB Practical Examination for General Music (147) will be conducted by the schools and the marks have to be uploaded online by the schools by March 7, 2024. Technical group streams in Agriculture, Commerce, Home Science and Vocational will be conducted by respective schools only.
FAQ : GSEB 10th Time Table 2024
Exam Day Instructions What is the timing of the GSEB SSC exams?
GSEB class 10 exams will be conducted in two slots- morning and evening.
What is the official website to download GSEB Class 10 time table 2024?
Students can download the GSEB SSC time table 2024 from the official website- gsebeservice.com