After a Very Long Process Finally Gujarat Government Decided To Select Gyan Sahayak Candidates For Primary And Secondary school. Gyan Sahayak Madhyamik Document Verification Date And Document Verification Centre declared.
Gyan Sahayak document verification-related information has already been uploaded to the Official website. You Can Check From the Below Links.
Gyan Sahayak Document Verification
As You Know You Have To Complete the School Selection Process Before You Go For Document Verification. Gyan Sahayak School Selection Process Is Almost Completed For Primary And Secondary.
Here Is the Official Announcement For Gyan Sahayak document verification:
જ્ઞાન સહાયક (માધ્યમિક) માં શાળા ફાળવણી થયેલ ઉમેદવાર માટે ડોક્યુમેન્ટ વેરીફિકેશનની પ્રક્રિયા તા. 27-10-2023 થી શરૂ કરવામાં આવેલ છે. જેના કોલ લેટર ઉમેદવાર પોતાના Login માંથી ડાઉનલોડ કરી શકશે.
How To Download Gyan Sahayak Document Verification Call Letter?
As Per the Official Announcement, You Have to download a Call Letter Before You Go To Document Verification. Here Are Some Simple Steps To Download Your Gyan Sahayak Call Letter:
First Of All, Go To Gyan Sahayak Official Website: gyansahayak.ssgujarat.org
Now Login into your Account by Entering your TET Seat No, Date Of Birth, And Password.
After Login, You Can Download Gyan Sahayak Document Verification Call Letter.
Make Sure To Carry this Call Letter at Document Verification Time.
Gyan Sahayak Document List Prathamik
You Have to Show Below Documents At Gyan Sahayak Document Verification: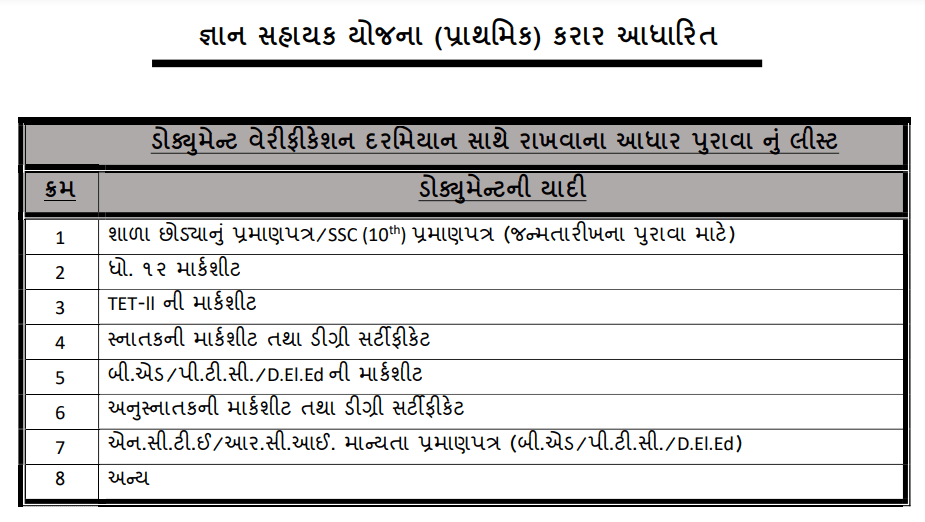 Important Links  : Gyan Sahayak Prathamik Document Verification 2023