Gujarat na Vano: Gujarat, a vibrant state in India, is known for its rich cultural heritage and diverse ecosystem. To celebrate its natural beauty and promote environmental conservation, Gujarat organizes Vanotsav, an environmental festival. As part of this celebration, the state has started a unique movement to create "Vano" or sanskrutik van. In this article, we provide information about the importance of forests in Gujarat, their establishment, and their special features.
આ ગુજરાતના વનોની PDF 2023ની લેટેસ્ટ આવૃત્તિ છે, જે ગુજરાત સરકારના માહિતી ખાતા દ્વારા પ્રકાશિત કરવામાં આવેલ છે.

This is the latest version of Gujarat Forests PDF 2023 published by the Government of Gujarat's Information Department.
Gujarat na Vano PDF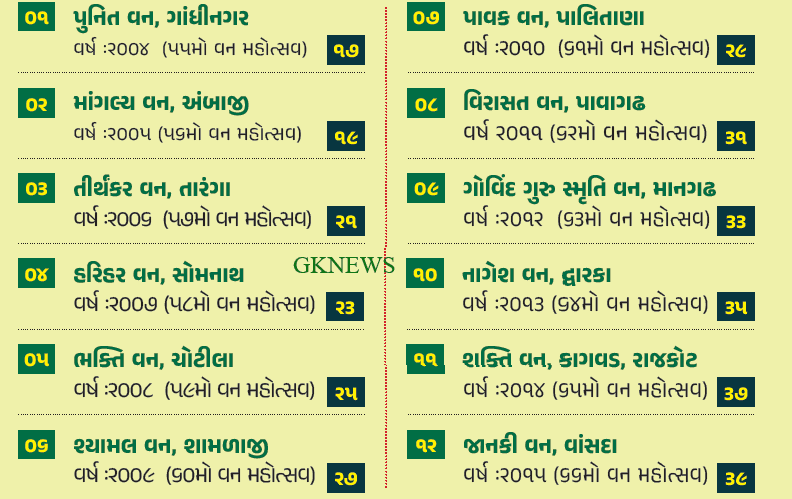 Gujarat na Vano pdf is a very useful subject for Vanrakshak and forest guard recruitment which can give them good marks in the upcoming forest exam because there are forest questions from Gujarat na Vano pdf.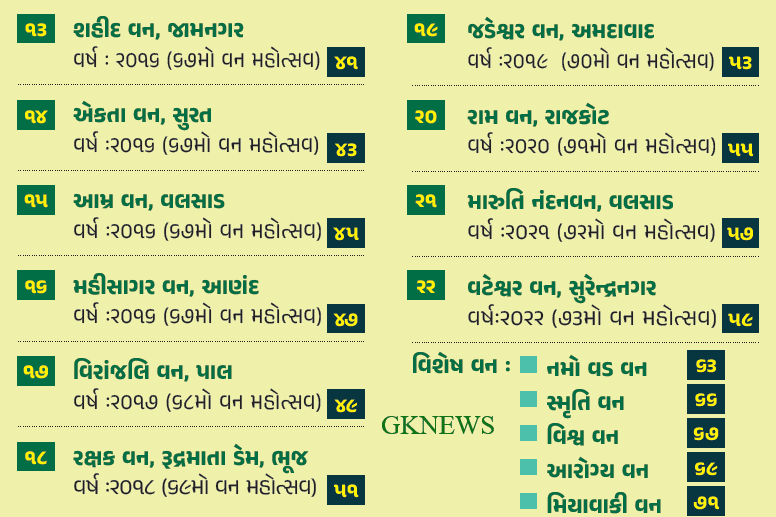 About Vanotsav and Forest Evolution
Vanotsav, an important environmental festival, was started in India in 1950. It gained prominence during the 1960s, thanks to the efforts of Kanaiyalal Munshi. This festival is celebrated with great enthusiasm in Gujarat.
Gujarat's visionary former Chief Minister Narendra Modi introduced the concept of creating sanskrutik van or forests during the Vanotsav celebrations. The first ever forest named "Punit Van" was established in Gandhinagar in 2004, symbolizing the state's commitment to environmental conservation.
Gujarat na sanskrutik van PDF
Gujarat na Vano, cultural forests, represent a unique combination of nature and culture. Inspired by the vision of former Chief Minister Narendra Modi, these forests celebrate the essence of spirituality, history and natural beauty.
Important Link : Gujarat na Vano PDF 2023
Gujarat na Vano PDF 2023

Gujarat na sanskrutik van PDF

Click Here
Also Read: Gujarat Forest Guard Model Paper 2023 PDF Download
Gujarat na sanskrutik van has a story of its own, reflecting the diverse tapestry of Gujarat's cultural heritage. As we commemorate these green symphonies during Vanotsav, let us preserve and protect the splendor of Gujarat's forests or Gujarat na Vano for generations to come. These green sanctuaries stand as a testament to the harmony between culture and nature, creating a sustainable future for the people of Gujarat and beyond.
FAQs: Gujarat na Vano
પ્રશ્ન : શું આ ગુજરાતના સાંસ્કૃતિક વનોના PDF 2023 ની લેટેસ્ટ આવૃત્તિ છે?
જવાબ: હા, આ Gujarat na Vano PDF ની લેટેસ્ટ આવૃત્તિ છે.
પ્રશ્ન : શું ફોરેસ્ટ ગાર્ડ કે વનરક્ષકની પરીક્ષાઓમાં આમાંથી પ્રશ્નો પુછાય છે ?